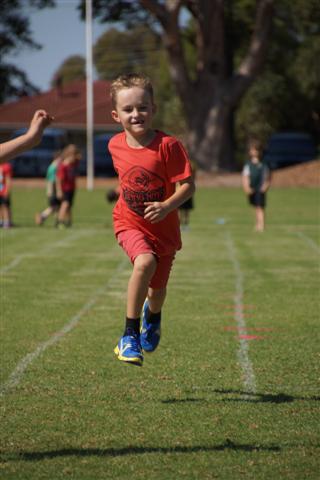 Our  Junior Primary athletics carnival was a very well-attended event, on the last day of Term 1.
A revised format saw more team and less novelty events this year, but the carnival proved to be as popular as ever, with the large crowd attending the event.
Students participated in running races, as well as sack relay races, pass ball, tunnel ball and a championship relay race.
The end of competition saw Forest faction like its senior counterpart, proving too strong (194 points) for the other factions, easing into first place from Ocean (182 points), Sun (169 points) and Earth (218 points) respectively.
Mr Kerimofski said he was really pleased with students' efforts and drew attention to the developing skills that were displayed by many athletes. He also thanked parents who helped judge events along with the school's faction captains.
What a great day it was with huge parent support and enthusiasm and good sportsmanship displayed by all participants.  Enjoy snippets of the action, courtesy of Deb Salkeld's incredible photography. (Thank you)  🙂
Written by Gary Gibbon; Photos by Deb Salkeld; Posted by D. Veary