As we had an extremely hectic first term, Margaret River Primary will be celebrating Harmony Day on Thursday the 8th of May 2014. The message of Harmony Day is everyone belongs. It is a day to celebrate Australia's diversity. It is a day of cultural respect for everyone who calls Australia home – from the traditional owners of this land to those who have come from many countries around the world.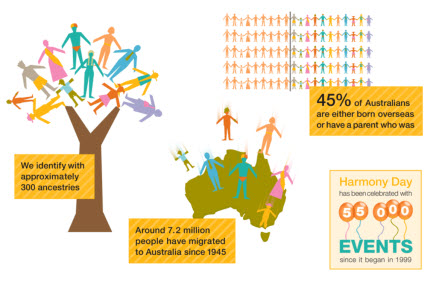 We are inviting parents/ caregivers and teachers to dress for Harmony Day to reflect Australia's cultural diversity, and to join their children for a shared picnic lunch at school on Thursday.  Children may sit with their parents for lunch.
The day will commence with the whole school assembling in the undercover area at 9.00am – 9.30am to sing a song together and watch a short film clip about Harmony Day. [See bottom of this post for Yothu Yindi's "World Turning" song and lyrics to practise for Harmony Day.]
Between 12.25pm and 12.50pm a Parade of Costumes will be held on the Quadrangle. The students will parade in their Year Levels, Junior, Middle and Upper Primary.
We have asked students to make a flag that represents their family's heritage to wave during the costume parade.  Students are to make their flags using Recycled Materials only. It would be great if parents/ caregivers and the school community could make a flag also.
LUNCH BREAK (shared picnic lunch) 12.55pm – 1.45pm
Following lunch the Year 7 councillors will be DJ-ing on "Radio Harmony". They will be collating a selection of World Music from the school community for your listening pleasure.
___________________________________________________________
Harmony Day Schedule.
9.00am – 9.30am – Assemble in the Undercover Area for whole school song – "World  Turning – Yothu Yindi."
12.25pm – 12.55pm – Parade of costumes around the Quadrangle. Student's parade in Junior, Middle and Senior Cells with their flags.
1.00pm – 1.40pm – Radio Harmony – A selection of world music for your listening
pleasure.
__________________________________________________________
You can practise the song we'll sing together as a school here: "World Turning" by Yothu Yindi.

"World Turning" by Yothu Yindi
I've been looking for you
Searching for something new
You keep my feet on the ground
As you make my world turn around
Keep sending me signals
Don't let me fall by the way
And while the world
Is turning right
You show me the way
To your heart
'Cause when you call my name
It's like the world
Is turning right…
Burrkuwurrkumi
Raywa raywa raywuyuwa
Wirrkul madayin
Gaywagaywa gaywagaywa
Ditjuman nyaku gayawak
Raliya dhambal ngayili
And while the world
Is turning right
You show me the way
To your heart
'Cause when you call my name
It's like the world
Is turning right…
Come on show me the way
There is no turning back
It's turning right
Well it's turning right…
I've been looking for you
Searching for something new
You keep my feet on the ground
As you make my world turn around
Keep sending me signals
Don't let me fall by the way
And while the world
Is turning right
You show me the way
To your heart
'Cause when you call my name
It's like the world
Is turning right.
Songwriters: YUNUPINGU/FINN
Published by: Lyrics © Sony/ATV Music Publishing LLC
Written by Janice Dunlop; Posted by D. Veary