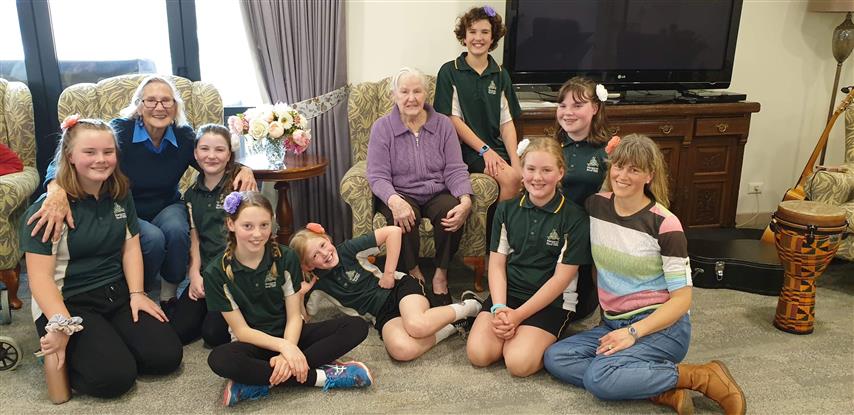 Friday the 13th turned out to be a day of good luck with our harmonious singing group, Bella Melodias, performing for Mirambeena residents. Under the excellent direction of band leader Andrea Manners, the angelic voices sang a wide range of numbers from 'Road to Gundagai' to 'Hakuna Matata'. The faces of residents lit up with the older tunes as some sang along. Andrea and Amy also performed a ye olde number, 'Under the Apple Tree' which the girls enthusiatically joined in on – a well loved song of many residents.
This experience has hopefully taught the girls the joy of blessing others with the transforming power of music. It was wonderful to see the residents smiling and tapping their feet and clapping their hands along to the old songs they recognised. It's so good to encourage  intergenerational contact and communication. Great to witness the elderly and singers meeting and greeting each other at the end and the girls realising they can give and receive love, and make a difference in another persons life.
Andrea Manners, band leader/coach
It was the best experience by far of performing. It gives you a sense of connection.
Mirikai S, Year 6
I am still freaking out! It was really fun and the old people loved us!
Stella T, Year 5
Everyone was so friendly!
Lucy K, Year 4
It was really nice and all the people were really nice and I got 5 kisses!!!
Scarlett W, Year 5
They loved the singers so much, they were asked to come back any time!
This is the beginning of something special and it was an absolute honour to witness. Awesome job Bella Melodias and Andrea for the memorable performance for residents, staff and parents.
Written, photos and video clips by Amy Johnstone, Posted by D. Veary