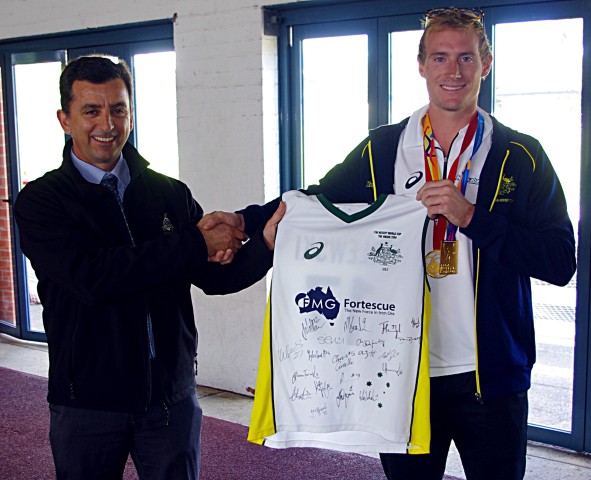 On Tuesday, former MRPS student Aran Zalewski, spoke to Year 4 – 7 students about how he realised his dream of playing hockey for Australia, which culminated in winning the Hockey World Cup earlier this year.  During his visit to the school, as well as presenting a fully signed World Cup shirt  to the school, he also showed his two gold medals and spoke about his journey so far and the need for full commitment and realistic goal setting in achieving his dream to play for Australia.  Students were inspired by his talk and after a lengthy question and answer session,  Aran conducted a coaching clinic for about forty students.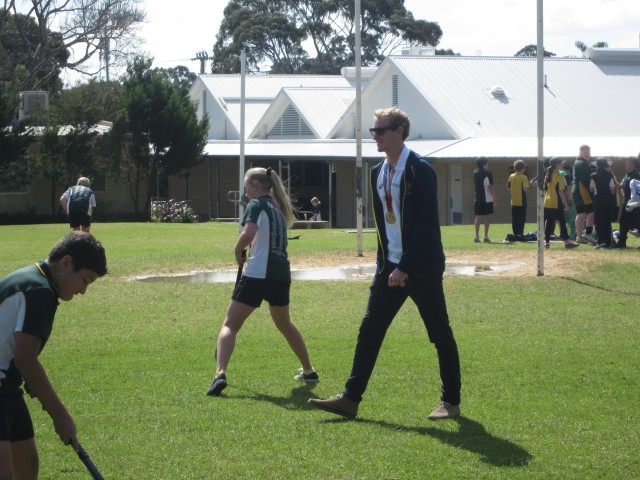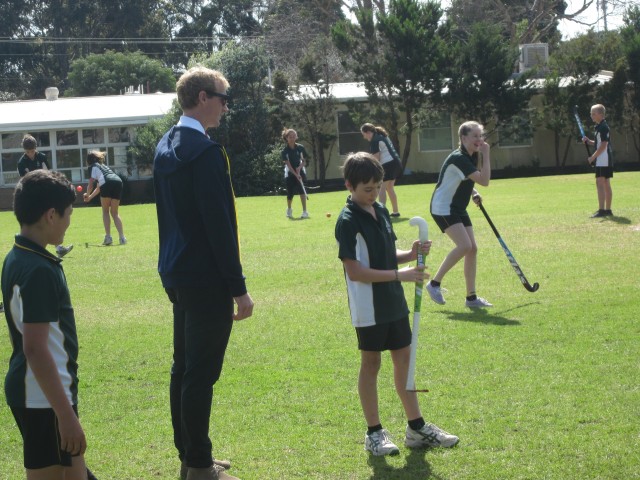 A summary of his pathway to achieving his dream is:
Aran Zalewski attended MRPS as a Year 7 student in 2003.  He played junior hockey in Margaret River and then Busselton before going to Perth to attend high school and to further his hockey development.  He advanced through State teams and as his skill level and potential was recognised, the Australian Institute of Sport invited him to join the Australian Men's Hockey Development Program.
In 2012 he played his first game for the Australian Men's Hockey team in Bunbury against India, where he impressed all and scored a goal in his debut match.
In 2014 he was selected as a full time Australian player and he was a member of the gold medal winning Australian Men's Hockey Team in the World Cup where Australia defeated The Netherlands 6-1.
Just recently he also won a gold medal in the Glasgow Commonwealth Games when the Australian team defeated India 4-0 in the grand final.
I asked Aran about his experience, playing in the Hockey World Cup Final in The Hague,  Netherlands this year and this is what he said:
It was a surreal experience.  The Hockey World Cup is a big spectacle in Holland with about 15 000 people at the games.  It was a very inspiring environment.

The final versus Holland was an amazing experience.  We played against the home side, the Netherlands, and you wouldn't want to play against anyone else.  The atmosphere and the crowd were incredible.

Winning a gold medal still hasn't sunk in.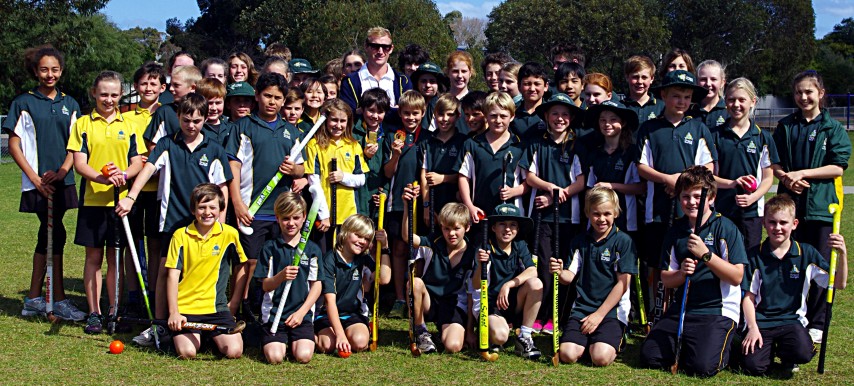 Six of our current students: Angus D,  Arian W,  Taj T,  Brodie D,  Jackson D. and Zebedia B also experienced the sweet joy of winning gold medals when they attended the Karate Shotokan National Tournament in Sydney last weekend.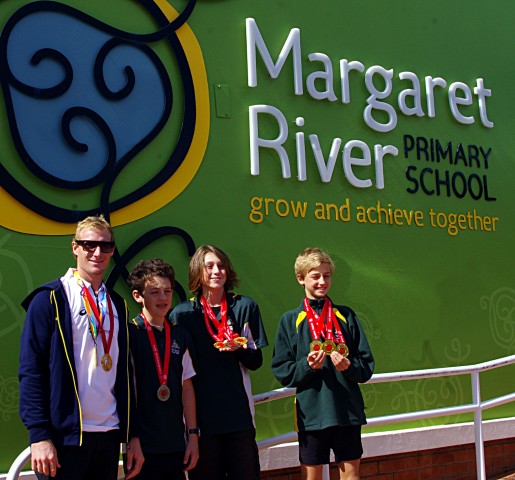 These boys have been training for up to seven years and in order to compete at this level they had to prove to their sensei that they were ready to take on this challenge, as only the best in Australia in that age group would win gold.
They travelled to Sydney for the National Tournament which took place at the Sydney Academy of Sport over the weekend.  Being a national event, they competed against participants from all Australian states as well against a team who came over from Japan.  While there they chose to attend a training seminar by the chief instructor from Japan's Shotokan before the tournament, which was only offered to the higher belts.  They said it was very helpful and that he "showed you how to perfect basic techniques".
Most of the medals were won by competing in one-on-one events and the stunning medal tally was:
Angus D – 3 gold medals
Arian W – 1 silver medal
Taj T – 2 gold medals and 1 bronze
Brodie D – 1 gold medal and 2 silver
Jackson D- 1 bronze medal
Zebedia B- 3 gold medals and 1 silver
Taj summed up the tension of the competition with this anecdote:
There was one team event that we had been training for very hard.  When the winner was announced everyone tensed up and wondered if it was another team from Margaret River who'd won – then we realised that we were the team from Margaret River who had won!  It was very exciting!
Congratulations on a magnificent achievement, boys!  It certainly took dedication, persistence and a great deal of goalsetting and hard work to achieve this level of success.  [editor]
Margaret River Hockey Club are looking to bolster numbers next year, particularly with the Year 4-6 boys and the Year 7-8 boys, so any students who were inspired by Aran's talk and clinic are more than welcome to join the Club for the 2015 season. [Mr Harrison]
Photos by Mr Harrison and Mr Madden; Written by Mr Harrison and D. Veary; Posted by D. Veary