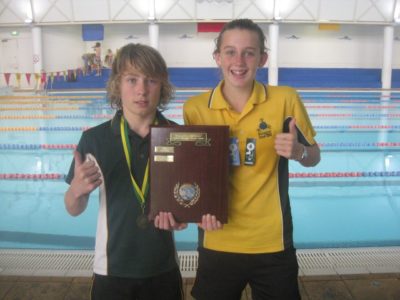 Sun faction foiled Ocean faction's attempts to secure a hat trick of wins, by taking out this year's faction championship in the Senior Cell swimming carnival held at the Aquatic Centre on the last day of term.
Ocean had to settle for second place, with Earth and Forest factions filling the minor places respectively.
The Roseanne Podmore Memorial Shield was happily accepted by Sun captains, Deegan H. and Jodi B.
This year's carnival was noteworthy for it being the last to host Year 7 competitors, who from next year will be attending secondary school.
Most of the individual awards were split between Sun and Ocean, the major exception being an outstanding performance by Forest's William M. to very clearly win the Year 6 Boys Champion award.
Individual ChampionAwards:
Year 6 Boys Champion – William M. – Forest      Year 6 Boys Runner-up – James C. – Ocean
Year 6 Girls Champion – Jasmine N. – Ocean      Year 6 Girls Runner-up – Carys R. – Sun
Year 7 Boys Champion – Seth Van H. – Ocean     Year 7 Boys Runner-up – Deegan H. – Sun
Year 7 Girls Champion – Emma H. – Ocean         Year 7 Girls Runner-up – Molly Q. – Earth
Overall points scores were as follows:
Sun    425
Ocean    321
Earth    248
Forest    176
Encouragement Awards this year went to Nick N-L (Year 7) and Asha A. (Year 7), both from Earth Faction.
Ddeputy principal Craig Mainard said
I was pleased at the high levels of enthusiasm and sportsmanship demonstrated by all competitors.  The carnival complements our school's swimming lessons and I'd like to thank the swimming teachers for their preparation of the students.
Written and photo by Gary Gibbon; Posted by D.Veary