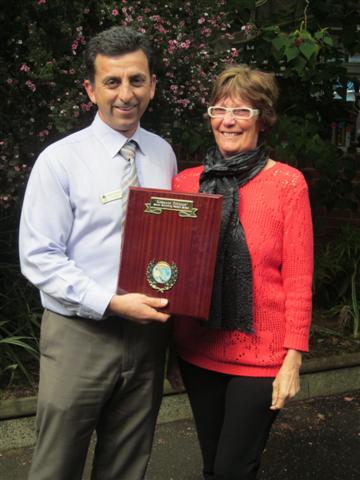 Last week, staff gathered for a special morning tea as the new Senior Swimming Faction Shield was unveiled and presented to guest of honour, Roseanne Podmore.
Sinan Kerimofski (principal) had the following to say.
"The new Roseanne Podmore Senior Swimming Faction Shield has been created in recognition of Roseanne's dedication and hard work for our school.  This includes swimming lessons and all her voluntary work at numerous Year 7 Rottnest Camps and other excursions.  Roseanne has been a key member of the Year 7 Rottnest Camp team, purchasing all the food then packaging it for transport on the ferry.  But, most important of all, has been her wicked sense of humour and antics on camp which have earned legendary status."
Since moving to Margaret River in the early 1990s, Roseanne has been actively involved in swimming lessons, first at the beach and then at the pool.
Wayne Hickey, MRPS teacher and co-ordinator of our schools's swimming program, added that,
"Roseanne and her family's substantial input and support provided much of the impetus which led to the building of the Margaret River Aquatic Centre and Roseanne has been at the heart of our school's swimming lessons, as 'instructor in charge' for the past twenty years.  She always volunteered her time willingly to attend meetings to co-ordinate swimming lessons and to solve any problems which arose."
He went on to explain that Roseanne's contribution has not only been training students, but that over the years she has trained numerous staff members to obtain their Bronze Medallions.  This has allowed many water-based excursions to go ahead.  Mr Hickey praised Roseanne's generous community-minded nature, saying that, "She has always been willing at any time to train staff and to help out on excursions." He said that she is always, "very professional in the way she goes about it".
This shield is a fitting way to recognise and honour Roseanne's contribution to our school's swimming programme and her role in our wider school community life.  MRPS thanks you, Roseanne! 🙂
Written, photos and posted by D. Veary with exerpts from interviews with Sinan Kerimofski and Wayne Hickey.