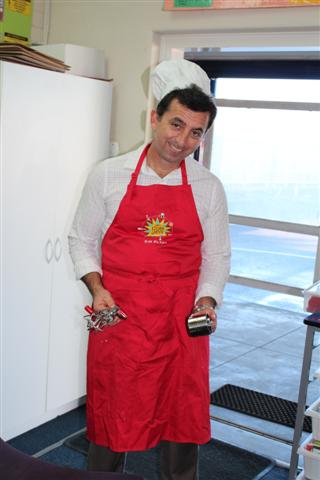 Fresh Start Friday Breakfast Club got off to a flying start with our own celebrity chef, Mr K, cooking scrambled eggs last Friday.  The breakfast club, run by Gemma Daniels (our school chaplain) has now moved to our well-equipped kitchen garden kitchen where Mel and Gemma serve up delicious, healthy breakfast options to any student who'd like to come down before school and get a good 'fresh start' to the day.
Last week's breakfast options were banana and berry smoothies, cheese toasties, muesli, fresh fruit salad and of course, the popular scrambled eggs.  All the children I interviewed said the same thing, "It's really yummy!"
The new venue has made a big difference for volunteers who have been coming along for years to help serve breakfast to students.  You can tell that breakfast is on by the crowds of students milling near the kitchen.  Our next celebrity chef on the roster is Mr M, who will be cooking up something hot next term.
Gemma Daniels said that the Fresh Start Fridays Breakfast Club is for all students who'd like a healthy start to the day.  She said the focus for her was on:
encouraging peer role modelling where the older students were helpers and on developing relationships and social skills.
Food is provided by Foodbank through the Healthy School Breakfast program and Gemma thanked local businesses, IGA, Coles and Brumbys,  who have been supporting this initiative with generous donations of food.
So, will your child be coming along this Friday for a healthy start to the day?  And…it's free.
Photos, written and posted by D. Veary