[This is their second post – and a picture of our first group of journalists with their merit certificates from Mr. Thomas for amazing writing in their first post on both kitchen and garden. Great job, team!} The Editor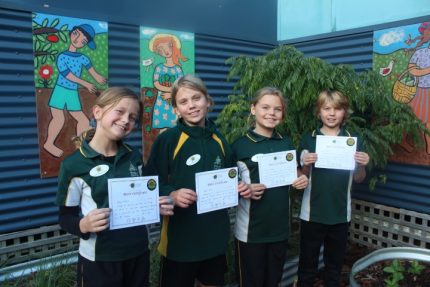 We were all so excited to see what we were making because no-one knew. We could not think of anything.  We were lost.
But then, "I have an idea," said Remy, "we will do Cooking up Ideas!"
Written by Saffi
---
COOKING UP IDEAS
Cherri said: I would love to make something sweet.

Daisy said: I hope we make chips.

Darcy said: I think we will make pizza.

Alex said: I think we will make noodles with yummy lettuce from the garden.

Jasmine said: I think we will make something healthy, but I want to make ice-cream – yummy!

Kalani said: I would love to make tacos!

Ash said: I would love to make chocolate or vanilla cupcakes.

Betsy said: I think we will be making pasta.
I wonder who cooked up the correct idea?
by Remy
---
DISH OF THE DAY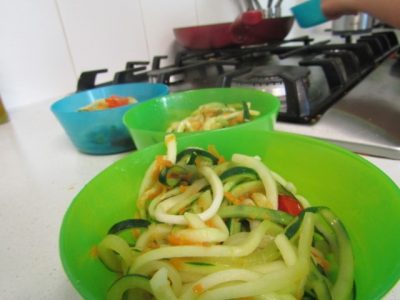 "Mmm… pasta!" we all said.  But then – "Surprise", said Jodi, "There's no pasta.  It's zucchini!"
"But how..?" we said, looking all confused.
"We're using zucchini as the pasta!"
by Saffi
---
COOKING…
We all went back to our stations and agreed that I would be the head chef. I gave everybody their jobs – cooker, chopper and collector – and off they went.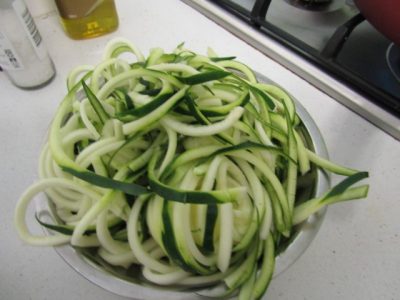 We spiralled all of the zucchini into a bowl. Now it was time for the swirly thing with your wrist.  "Wow! That's perfect!" The oil swirled around the pan as we rolled our wrists off.  "Oopsy Daisy, I think we broke the rule of the 8 swirls," I said. Then I added, "Who cares!  That's what real chefs do!"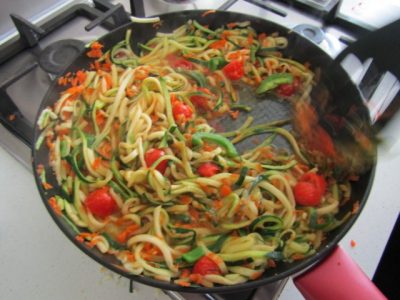 We tossed all of the pasta into the pan, hoping it would cook. "Well, now it's time to add all of the vegie delights – yummy!"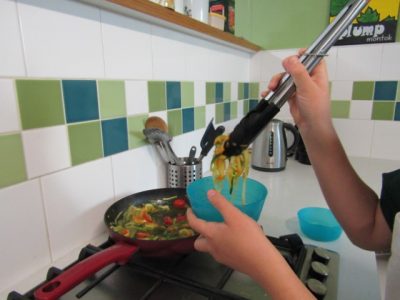 One minute later we were left with a strange but yummy pasta meal.  As we looked down at our dish, we all had a cheeky grin on our faces.
by Reef
---
NEW SKILLS
"WOW!" said the class, looking amazed as the zucchini went whole through one side of the machine, and on the other side it oozed out as noodles.
"Saffi, what's going on?" I said , confused.
"We're spiralling the zucchini to make noodles."
"Oh." I started to chop the tomato, basil and garlic to go with the zucchini noodles.
by Emillie
---
END TASTE…
As a bowl of soft cooked vegies and zucchini sat in front of us, we were all scared to take our first bite. Everyone sat in complete silence.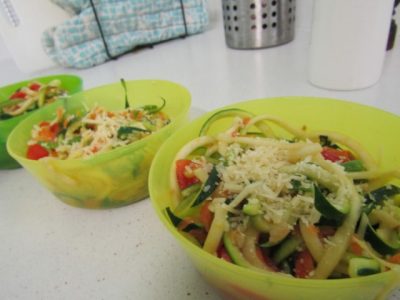 "Come on. Eat up!" Jodi said.
As I closed my eyes, scared to eat, the fork somehow jumped to my mouth. "Wait. Whaat…?" I said, confused.  It was sooo.. good!
Everybody started eating, and before we knew it the bowls were stuck to our faces as we licked them clean!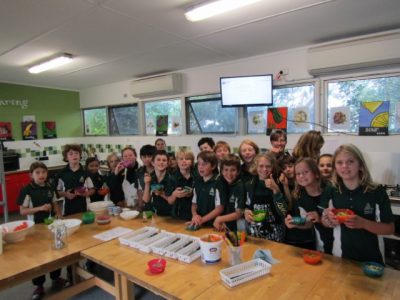 by Remy
---
STUDENT FEEDBACK
Andy said: I did not like the zucchini, but the cheese made it yummy.

Lucy said: It was so good and now, I'd love to make macaroons.

Sebby said: I loved the zucchini!

Judah said: I would love to make the carrot cake next time, using the carrots from the garden.
by Remy
---
RECIPE CORNER

(by Emillie)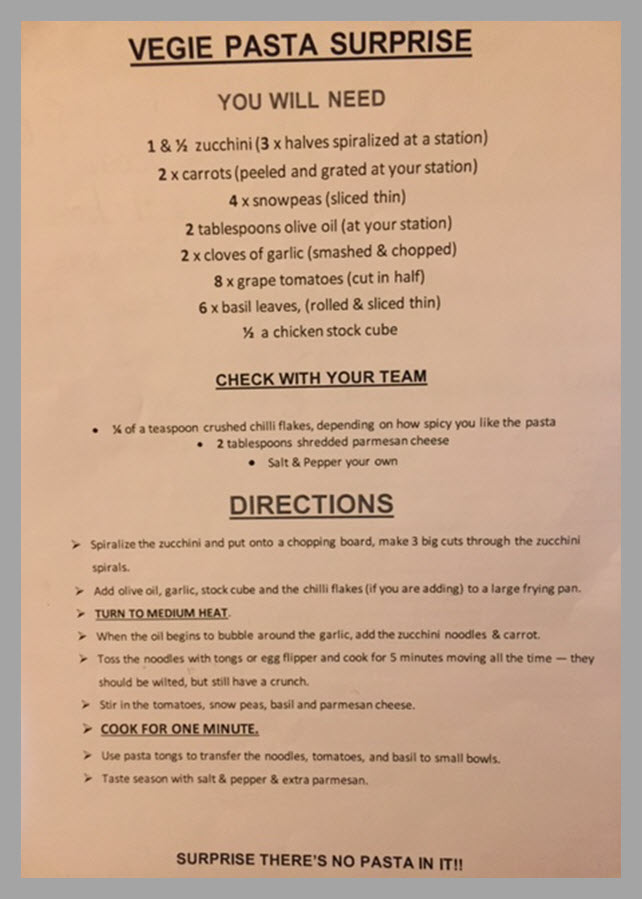 ---
Photos and written by Room 10 Kitchen Garden Journalists – Saffi, Remy, Emillie and Reef