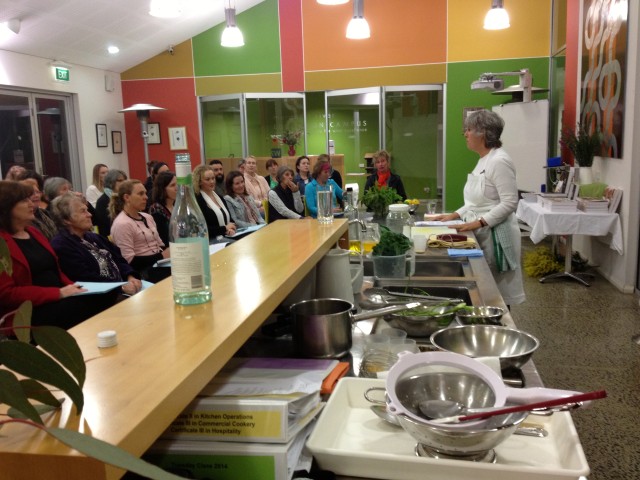 The MRPS Kitchen Garden team extends an enthusiastic vote of thanks and sincere appreciation to everyone involved in the Jude Blereau Wholefoods Cooking Seminar, Demonstration and Tasting held last Thursday evening at the Margaret River TAFE commercial kitchen.
Firstly to Jude Blereau, we thank her so much for donating her valued time and expertise to run this event for us. It was an evening to remember and we all learnt so much from her. Jude is a delight to work with and her knowledge and philosophies on food and healthy living is inspiring. Thanks also to Hamish from Bunker Bay Cafe for making a guest appearance and assisting Jude with his fish dish and fish filleting hints.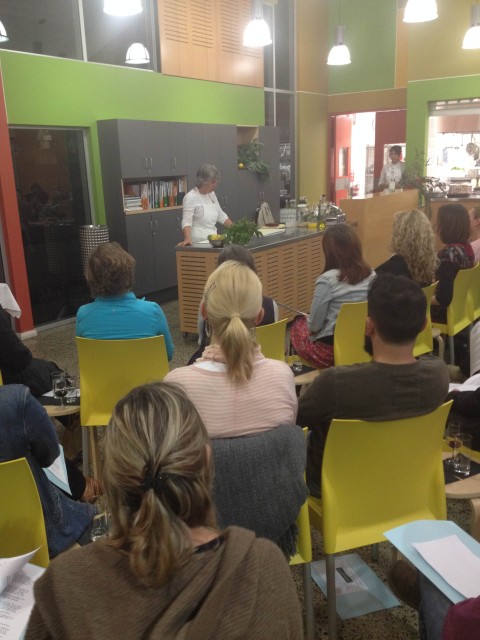 A special thanks to Amanda Smith from SWIT TAFE for so generously offering us her time and venue and to the hospitality/kitchen students, Sarah, Roy and Camilla who worked tirelessly behind the scenes. Amanda has been a great supporter of our program during our development and we greatly appreciate her enthusiasm, expertise, and organisation to make sure the kitchen functioned efficiently for our event.
A huge thanks and appreciation for Susie Ormonde and Mel Somerset for without their enthusiasm, time, coordination, planning and efforts we could not have pulled this event together. We importantly thank all of our patrons for supporting this event and we hope you enjoyed the evening. Hopefully, we will have many more Champion Chef events in the future.
Thanks to Ian Parmenter, Margaret River Arts, MR Lions, Cowaramup Lions, MR Rotary, MR Probus and MR U3A for taking the time to advertise this event to your supporters through your communication networks.
Finally, we offer our heartfelt thanks to the valuable support given to us from the following community businesses and organisations:
Leeuwin Estate Winery, Fermoy Estate Winery,
The Garden Basket,
Margaret River IGA,
Blue Ginger,
34 Degrees South,
Morries,
Margaret River Party Hire,
'The Break" ( accommodation),
Bannister Downs Dairy,
Agonis Ridge Olive Oil, and
Margaret River Primary School office staff, Kerry, Karen and Lee-Anne.
Written by Geoff McLeod for MRPS Kitchen Garden Team; Photos by G. Mcleod and S. Kerimofski; Posted by D. Veary