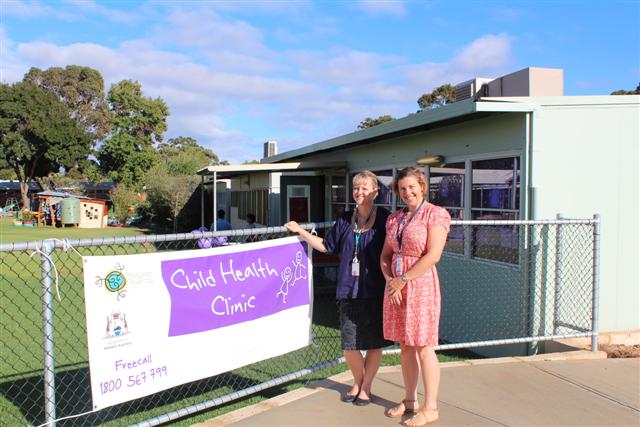 Getting a child health appointment in Margaret River has just become a whole lot easier with the launch of a new clinic at Margaret River Primary School.
This new partnership between Naturaliste Community Health and Margaret River Primary School will provide increased opportunities for engagement with parents and provide more opportunities for child health and developmental checks by co-locating child health services on the school site.
The new clinic works out of the kindy room at the school on Thursdays with an open clinic from 8:30 – 9:30am and appointments from 9:30am -12:30pm. The extra clinic aims to service parents of the school community. There is potential to extend to Thursday afternoons and Fridays, as demand for this new site increases.
WA Country Health Service Naturaliste Community Health Acting Coordinator for Community Nursing Sue Creek said,
Early detection and intervention is so important for good health and developmental outcomes for our children. This extra clinic means we can provide more options and access for parents in the Margaret River area.
Child Health Nurses work in partnership with parents and guardians of babies and young children. They provide important child health and development checks at 0-10 days, 6-8 weeks, 3 months, 8 months 18 months and 3-4 years and can also provide support and health information on growth and nutrition, sleep, safety, play, development, immunisation and parenting.
Sue Creek noted that,
Once their child turns 18 months old, parents tend to get busy with playgroups and other activities and they may miss further developments checks before starting school.  This clinic will make it more convenient for parents dropping off younger brothers and sisters to stop in for younger siblings' developmental checks at the clinic.
To make an appointment at a Child Health Clinic call 1800 56779 or you can drop in to the new clinic at Margaret River Primary school on a Thursday morning and book with the nurses there.
Written by Hannah Thomas (Chid Health Promotion Officer for Dpt of Health WA); Photos and posted by D.Veary