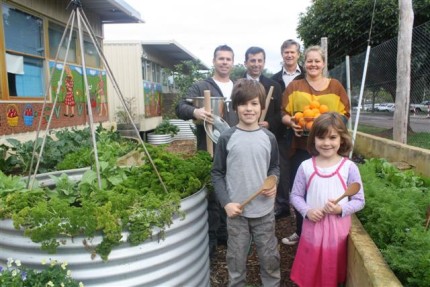 Champion Chefs Support our Margaret River Primary School Kitchen Garden Program
Our inaugural champion chef is Dany Angove.  Dany, head chef from Leeuwin Estate restaurant, with assistance from sous chef, Lee Paddick, will be preparing a four course meal and showcasing two Leeuwin Estate wines at the Margaret River Primary School Stephanie Alexander inspired kitchen on Tuesday 20th August. This is a fundraising event for our Kitchen Garden Program.
Dany will present this four course demonstration to participants, who will then share the chef's specialities. Dany will discuss important sustainability principles, organics, healthy eating and talk about the things that he holds dear about living and preparing food in our local area. His tasty presentation will include a Q&A throughout the night. The cooking experience will commence from 6.30pm on the Tuesday 20th August.
The kitchen garden team hopes to be able to organise several 'champion chef' nights for the remainder of 2013 and throughout 2014.
Tickets are on sale for $60 per person at the school office and Blue Ginger from Wednesday 14th August. There are only 25 places available so be quick to secure your place in what will be a memorable night with Dany and Lee, with support from the Kitchen Garden team.
Sponsors for the event include: The Garden Basket, 34 Degrees Blue and Leeuwin Estate, who have generously donated fresh, local, seasonal produce for this event. The school kitchen garden team sincerely appreciate the commitment made by the sponsors and are so pleased to have Dany Angove kick start what they hope will be a regular, popular and successful series of cooking experiences over the next 18 months, hopefully featuring a diverse mix of local and visiting chefs.  So, get in quickly while you can!
 Written by Geoff Mcleod; Photo credits: The AMR Mail; Posted by D. Veary