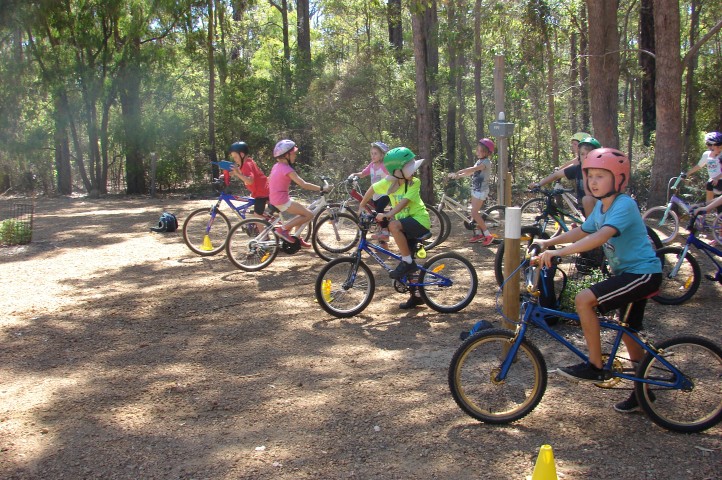 On Thursday morning, 12th March, over 100 students from T2, T4, T5 and T7 jumped on their bicycles and, accompanied by teachers and parent volunteers, rode out for the annual Year 4 Wharncliffe Mill Bike Camp.  Arriving safely at camp an hour later everyone excitedly set up their sleeping areas and after lunch embarked on the afternoons activities.  The students were kept busy learning about the history of gold in Margaret River, riding the trails around the campground, testing their bike skills and balance skills on the new adventure playground and weaving Gods Eyes.  Everyone was ready for hamburgers after an exhausting day and enjoyed an ice cream for dessert.  Friday morning they were up early and ready to go.   Whilst some chose to ride to the Pines to test their skills further, others were content to remain at camp for more relaxing fun and games.  All to soon it was time to jump back on the bikes to ride back to school where some of our parents had prepared a delicious lunch of sausage sizzle, fruit, juice and an icy pole.
There were a few grazed knees, one grazed face and a lot of tired students and teachers!
We would like to extend an enormous thank you to those parents who were able to volunteer their time to help make the 2015 Wharncliffe Mill Bike Camp an outstanding success.
Everyone had a great time and a lot of memories have been made.

Year 4 Teachers
Photos by Yr 4 teachers; Written by Deb Angell; Posted by D. Veary