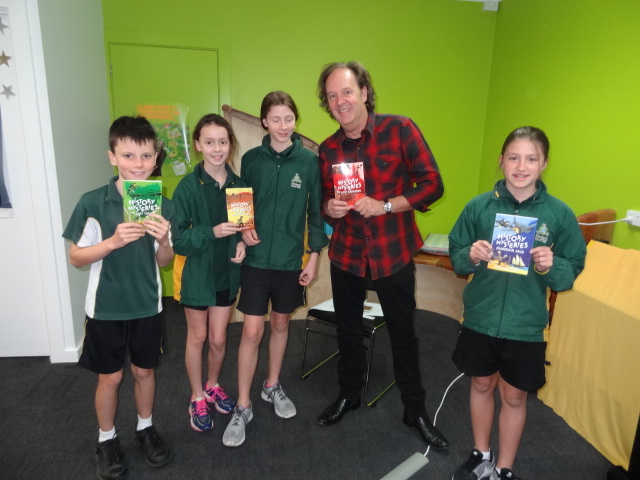 Listening to an author talk about his or her creative process is always a big inspiration for budding writers, but a talk from author Mark Greenwood seems to be in another league.
On Wednesday in an Author Talk at the town library, the writer of the book Jandamarra explained to students how he manages to bring real Australian history to life in his books.  They are full of adventure and bigger-than-life characters and what really impressed Cody from Room 2 was that,
He told such interesting stories.  He told you all about his adventures and said that you have to actually go to the place to be able to write about the place (convincingly).
Brock from Room 2 said,
I really like the way he visits the places and includes the photos in his books.  He told us how when he wrote Jandamarra he had to get respect from the Elders to be able to write about it.
Both boys really enjoyed hearing about Mark's new chapter book series published this year, History Mysteries, where he shares true historical adventure stories.  In them, fact and fiction merge into one and the reader is left thinking… 'strange but true'.
Mark's website states that:
Mark Greenwood is a history hunter. He enjoys searching for lost explorers and glittering treasure, solving famous cold cases and delving into Australian history's most baffling mysteries.
and it sounds like one of the memorable moments from the talk included his story about solving a wartime mystery in Broome which involved intrigue, smuggling, bombings, air raids during wartime and finding riches beyond belief…
If an author's purpose in writing is to hook students into reading;  if his purpose in dramatising historical events is to make learning fun and if Mark's purpose in writing these popular novels and picture books is to whet the appetite of students for Australian history – then what a successful excursion this Author Talk by Mark Greenwood was!
Written and posted by D. Veary; Photo by Peter Delfs