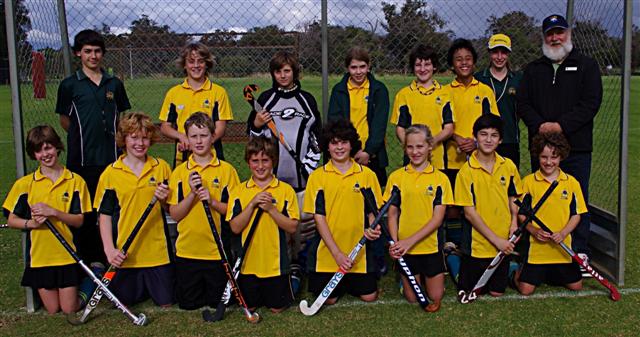 Last Friday some 107 Year 6 and 7 students and teachers trekked up to Busselton via bus for the annual interschool Winter Carnival. The sports played were football, soccer, hockey, netball and introduced this year…chess.
Our one and a half football teams were coached by Mr Delfs (Mr K was an assistant), with some 13 players joining with Busselton Primary (who fielded 9) to make a combined side which proved to be very competitive even though they had never trained together before. Our school football team did very well to finish in second position.
Mr M and Mr Hickey took 2 mixed soccer teams to Churchill Park and Mr M reports that they covered themselves in glory. One team finished third and the other team finished equal first.
Mr Harrison took a mixed hockey team to Bovell Park and reports back that they were extremely competitive, finishing in third place with 2 wins, a draw and 2 closely fought losses.Results on the day were:
MR defeated Busselton 3-0
MR defeated West Busselton 3-0
MR drew with Geographe 0-0
MR lost to Vasse (2-0)
MR lost to Dunsborough (2-0)
All up Margaret River finished third.
Ben McF(Captain) scored 5 goals, Martin H scored 1 goal.
A good team effort everybody and a very enjoyable day. (Apparently the team's lunch was "something else".)
Carey, Narelle and Mrs Day took 3 netball teams to Lou Weston Reserve and Carey reports they were all extremely competitive. First division came second, Second division came third and Third division came fourth. Not even the dampener of one student being carried off injured put the girls off their games.
This year chess was introduced for the first time  as you will have seen from an earlier blog post.
Special thanks to teacher coaches, many of whom spent their lunch hours working with teams leading up to the day. Well done!
Written and photos by Gary Gibbon (Phys Ed and Sport Specialist) and Mark Harrison; Posted by D. Veary