It was a night, oh what a night it was,

It really was such a night

The chefs could cook and how they cooked,

it really was such a night

The kitchen was alive with tasty food

all fresh, sourced locally,

and Leeuwin's top chefs, our Dany and Lee!

Adapted Elvis tune!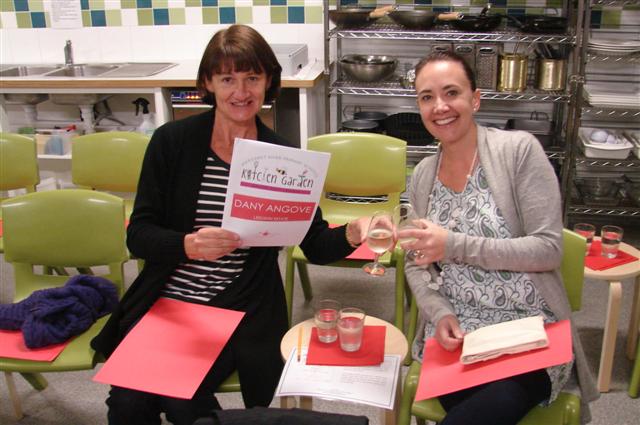 Last Tuesday night our Kitchen Garden Kitchen had the lights burning late into the night as twenty-odd lucky participants hung on Chef Dany Angove's words as he transformed locally sourced fresh ingredients into a delicious four course banquet.  He was assisted by sous chef, Lee Paddick as they shared their passion for organics, healthy eating and sustainable food principles with their audience.  The food was beautifully presented and cooked with flair which proved that elegant, exquisite dishes depend on sourcing simple, fresh, quality ingredients.
Geoff Mcleod said that
The Kitchen garden Team were so pleased with the evening. It was an outstanding success. Dany and Lee presented wonderful, fresh, locally sourced, seasonal fare which tasted sooooo good! Thanks to Danny for kick starting our "champion chef" events at our Stephanie Alexander Kitchen Garden Foundation inspired kitchen. His recipes and cooking/preparing hints were fabulous and the conversations about food, healthy choices and the importance of sourcing local produce was well received.

We hope to be able to announce another event before the end of term but you will have to be quick to secure a place!!
Thank you to our sponsors for the event: The Garden Basket, 34 Degrees Blue and Leeuwin Estate who so generously donated fresh, local, seasonal produce for this event.  Our thanks go especially to Dany Angove and Lee Paddick for giving their time and expertise to this inaugural fundraiser event.
Written by D. Veary and G. Mcleod; Photos by G.Mcleod; Posted by D.Veary