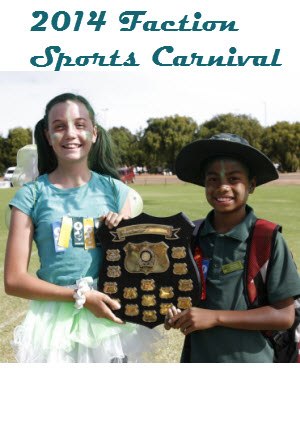 Another year, another faction athletics carnival and another win for perennial faction sports champs Forest who scored a narrow win against rivals Earth in the Margaret River Primary School faction sports carnival held at Gloucester Park last Friday.
After the jumping, throwing and some distance events were held mid – week on the school grounds, Forest held a slender points lead over the Earth and results during Friday's events saw the two factions swapping the lead several times throughout the day.
It was only during the final couple of relay events of the day, that Forest was able to find a winning way home, taking the faction shield away from Earth by only nine points.
The carnival was notable in that it was the last time the school's Year Seven students will be competing and they made the most of their final opportunities, by taking 7 of the possible 8 major individual results in the twelve year old and thirteen year old divisions.
Deputy School principal Campbell Madden said it was a very well organised and enjoyable day for all and paid tribute to athletes, teachers and P & C helpers and parents who assisted in all manner of ways to make the carnival a success.
Results after this i-movie thanks to the photos of Louise Mann. We love your amazing action photography, Louise and your support of our school events! Thanks. 🙂
Individual Champions
Nine Year Old Girls:
Champions – Bianca M – Ocean
Runner up – Taya R – Earth / Zali H – Sun
Nine Year Old Boys:
Champion – Ziggy B – Earth
Runner up – Flias  P – Forest
Ten Year Old Girls:
Champion –– Sienna C – Sun
Runners up –  Jaspa C – Fletcher – Earth
Ten Year Old Boys:
Champion – Parkin E – Forest
Runner up – Jonah McB – Ocean
Eleven Year Old Girls:
Champion – Tara A – Forest
Runner up – Freya E – Earth
Eleven Year Old Boys:
Champion – Kade D – Forest
Runner up – Jonas C – Forest
Twelve Year Old Girls:
Champion – Kiri M – Sun
Runner up – Jasmine N – Ocean
Twelve Year Old Boys:
Champion – Seth Van H- Ocean
Runners up – Zac D – Earth
Thirteen Year Old Girls:
Champion – Jodi B – Sun
Runner up – Renae L – Forest
Thirteen Year Old Boys:
Champion –Angus D– Sun
Runner up – Luke F – Forest
Team Standings:
Forest – 671
Earth – 6662
Sun – 575
Ocean – 523
Written by Gary Gibbon; Posted by D. Veary
Photos courtesy of Louise Mann