"Owwww…!"  As Emillie roars at the top of her lungs, the crowd goes wild, yelling, "Go Emillie!  Go!"  Emillie smiles happily.  She keeps on going, filled with glee.
As the band exits the stage, knowing that my band is up next is super duper nerve-racking.  As we walk onto the stage my stomach fills with nerves and butterflies. "Hello.  We are the Soundwiches," I say, super nervous.
Looking into the crowd I see all these faces, curious as to what we are gonna sing. As soon as we start singing, I hear clapping and cheering.  For us?  They are cheering for us!  Suddenly, I'm not nervous.  All the butterflies bust out of my stomach.  "Whooh!  Go Soundwiches!"  I'm smiling. I'm having so much fun!  We had such a blast.
Backstage every band member was ecstatic, high-fiving, cheering and patting each other on the back.
We'd like to thank our coaches: Graeme Smales, Tony Lane, Andria and especially, Miss Hel Bel.  Without you, none of this could've happened.  We love you so, so much!  And well done to:
Yeahh Bood
Coastal Kids
Soundwiches
Bella Melodias, and
Boodji Beats.
Hope to see all of your faces in term 3!!
Written by Remy (Room 10)
---
With Covid restrictions eased at the eleventh hour (almost literally) and the square metre rule relaxed, the ticket situation shifted instantly and Ms Helen had to call in parent volunteers to ensure a safe and happy evening at our annual Rockfest at Settlers last term. Ms Helen said:
Our enthusiastic parents donned viz vests to sell raffle tickets, supervise and manage crowd control, ensuring the Settlers Crew could serve meals safely.
This definitely was the night everyone had been waiting two long years for.  As the song goes, "Don't it always seem to go/ That you don't know what you've got/ Till it's gone", and this crowd were determined to show that they liked what they'd got!  They clapped, cheered and sang along with the bands, wrapped in a vortex of reciprocal sound.
A highlight of the night was the much awaited guitar raffle, kindly donated by Mr Scott Wise (a long time supporter of the music program at MRPS).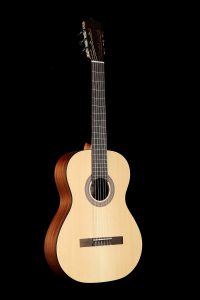 Ms Helen said:
Ruby's band, Coastal Kids, coached by Tony Lane performed last. An MRPS Merit Award was presented to Ruby for her courage and bravery throughout her recent ordeal and I also said how much we loved her and how glad I was that she was on stage performing with her band, broken leg and all!  While we were there, it just seemed right for Ruby A. to draw the winning ticket.
Emily S. was the popular winning entry pulled from the hat, who walked away floating on air, clutching her beautiful new guitar!
Weaving her special kind of magic, Ms Helen worked her way through the crowd, receiving very generous donations as she went. This year Settlers Tavern really showed their sense of community and support for the MRPS music program, doubling their usual contribution. They matched the amount raised twofold, to make it a record $2 240 raised for the Music Room!  "Whoo Hoo!"
Ms Helen said:
I'm in awe of our wonderfully talented students and their parents. Listening to our students each week during rehearsals and then finally seeing their excitement and initial trepidation explode into pure joy live on stage at the renowned Settlers Tavern, is the "icing on the cake!"
Grateful thanks to Scott Wise and Rob and Karen Gough from Settlers Tavern for their ongoing support.
Written and posted by D. Veary; Photos and video clips with grateful thanks to parents.