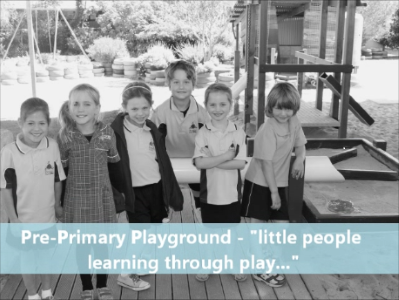 In 2013 I interviewed Helen Busetti about the creative and stimulating PP playground design.  She told me that it had been designed by Bernhard Kaiser.  Helen Busetti, first saw his stimulating design ideas when visiting Perth Zoo a number of years ago.  She finally tracked him down and commissioned him to design key features of our MRPS Pre-Primary playground.
She said that
Bernhard Kaiser's Natural Play Environments are in huge demand.  He designed our Water Table, Sand Table and Bridge.  Key elements of his designs are:
Creativity

Concept of sustainability and an awareness of the natural environment

They incorporate asymmetrical elements

They encourages problem-solving and creativity through play

They foster co-operative social play with a science focus
She said that she was hoping to have Mr. Kaiser visit later in the year to design a new cubby house.
I subsequently returned after the new cubby house had been constructed later in 2013 and filmed this video clip of the Science/Physics structures and how students were enjoying the quirky design of the cubby house.  Helen explained that the cubby house design
is very tactile.  Students understand that it is a social setting by the seating arrangement  and we often use it for groupwork and problem solving.
In this video clip, you can see the Water Table, Sand Table and Bridge in action with explanations from 2013 pre-primary students.  Water pipes are connected to an underground water tank.  Students watch out for the overflow and can then pump water up and onto the water table using hydraulic action.
The Sand Table uses pulleys and levers to encourage students' understandings of mass and volume.
Enjoy the video clip and thank you to the 2013 pre-primary students who showed us how it all works.  🙂

Written and photos and posted by D. Veary