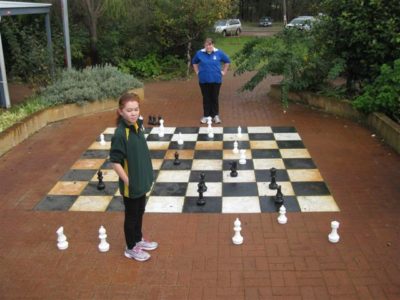 Chess was included in the winter carnival for the first time last Friday and it proved to be a very successful addition.  Teams came from Margaret River, Dunsborough, Geographe and host school Vasse.
The tournament venue was the art room which was really cool, because we could make use of Vasse PS's outdoor chess board and pieces set up just outside the art room. We played five rounds of chess and therefore five different pairs of students could use the giant board.
In the teams' event Margaret River teams 1 and 2 drew for first on 13.5 points. (Both teams were equally spread).  Geographe and Dunsborough drew for second on 9 points.  Vasse, which only had a two man team, did very well to score 7 points.
Individually, Robbie from Dunsborough was the top player for the day, being undefeated over five rounds.  Caleb from Margaret River and Steve from Vasse were the runners up, both securing four wins from five rounds.
Students all enjoyed having recess and lunch breaks at Vasse.  Thanks to Brian and Simon for the hospitality extended to everyone.  We look forward to next year.
​​Written and photo by G. Gibbon; Posted by D. Veary