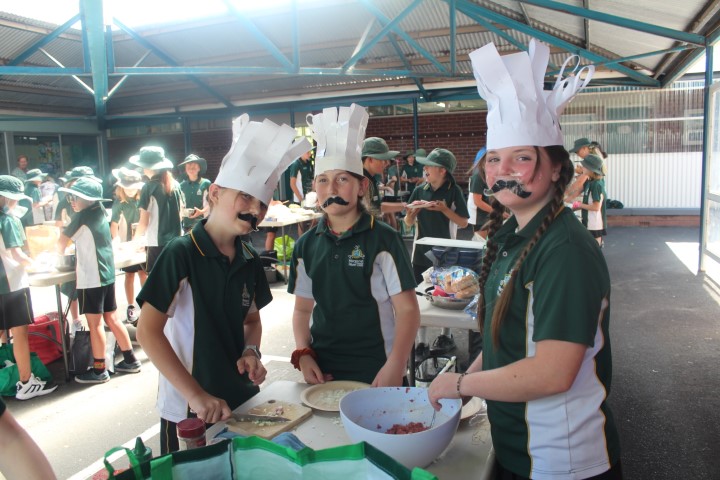 Move over Maccas, Burger King and Hungry Jacks, there's a new kid on the block (actually a whole lot of kids) – the Year 6s at MRPS!!
The air was hot and thick with anticipation as our young chefs chopped onions, squished mince between their fingers, frothed eggs with focused frowns on their faces and added their secret spices to conjure up that elusive best burger of the day!
The undercover area was buzzing with creative food geniuses, working in groups of three or four to magically produce patty masterpieces for the barbie. Courtney Gray, Ms Symes and Mr Harrison toiled over the sizzling plates, wondering whether it would be sunstroke or BBQstroke they'd suffer that night.
As I moved around tables, offering support and taking photos, the finished creations were astounding. No flies on these chefs, with Dagwoods so tall you'd need to unhinge your jaw for a bite and beautiful burger platings with sides of crispy haloumi strips and the proverbial skewer holding it all together.
Every single burger that day looked mouthwateringly delicious. Every sigh of bliss and lick of the lips told the same story – Burger Day 2023 was a real hit!
Enjoy the slideshow below…
Written, photos and posted by D. Veary; Grateful thanks to all our helpers on the day and to Mums and Dads at home for your support, encouragement and advice!