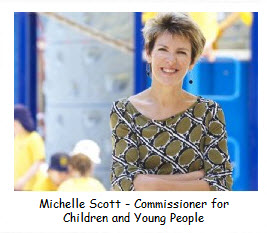 Margaret River residents will have the opportunity to meet and talk with Michelle Scott,  Western Australia's first Commissioner for Children and Young People, when she comes to Margaret River at the end of this month.  She will be visiting our school next Friday (30th March) to meet staff and students.
She is visiting Margaret River as part of a regional tour to meet the community and hear about any concerns and public programs which are making a difference to young people.  You are invited to attend the community forums which are to be held as follows:

COMMUNITY FORUM ON EARLY YEARS to be held:
When Friday, 30 March 2012
Time: 10:30am – 12:00pm
COMMUNITY FORUM ON YOUTH SERVICES to be held:
When Thursday, 29 March 2012
Time: 2:15 – 3:45pm
Both meetings to be held at:
Council Chambers, Shire of Augusta-Margaret River
41 Wallcliffe Road, Margaret River
RSVP: Jayne on 6213 2204 or jayne.orton@ccyp.wa.gov.au
Download PDF invites here: Flyer – Community Forum Early Years – Margaret River – 30 March 2012
and Flyer – Community Forum Youth Services – Margaret River – 29 March 2012
For more information on the Commissioner's role and projects, click on the picture to go to the website.